We believe that a web-to-print storefront should be more than just a place for customers to come and buy business cards. It should be a dynamic, interactive portal that empowers your customers, letting them manage their business on their own schedule, as well as a powerful tool for you to attract new clients and grow your business.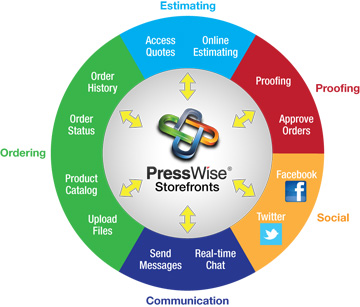 Your PressWise system includes unlimited web storefronts, designed to help you capture more business, lower your service costs, and retain your valuable accounts.
You can create unlimited customer accounts, each with a built-in website and catalog of documents and other collateral. There are NO HIDDEN FEES and no limit to the number of templates, products, catalogs, accounts, or orders you can create within PressWise.
If you already have customers on other web-to-print products – no problem! PressWise integrates seamlessly with most leading web storefront products and many customers use both PressWise storefronts and third-party storefronts to serve their clients.
Plus, because all storefronts are fully integrated into our MIS suite, there is no rekeying of data required. Turn online estimates into electronic barcoded job tickets that flow direct to press and through production, finishing and shipping without the need for manual touches, so you become more efficient and your jobs more profitable.
HIGHLIGHTS
Private, group, public, and anonymous shopping
Easy product templates (Digital, Offset, Wide-Format, Inventory)
Fill-in-the-blank personalization of documents with real time proofing
Capture orders 24/7 with online catalogs
Customers can easily make payments, even for multiple orders at once
Process credit cards and capture PO orders
Attach mailing lists and artwork to orders
Shoppers can estimate and order unique one-time jobs online
Multi-level permissions for order approvals
Easy-to-use online services allow clients to track all their orders in one convenient place
Complete "My Account" management features – online proofs, job status, billing, reordering and more
Jobs flow to the shop floor or direct to press without rekeying
HOW YOU BENEFIT
More entry points for orders to flow into your shop
Orders are standardized
Reduce time and touches spent quoting/following up/proofing etc, allowing your resources to be used more efficiently and profitably
Providing such 'value added' services presents you as more current and more customer-focused
Another tool for developing new business and staying competitive
Ease of reordering encourages customer loyalty
HOW YOUR CUSTOMERS BENEFIT
Personalized storefront customized to their needs
Greater convenience and control over the ordering process
They can place orders on their own timeframe
Ability to access their previous order history and reorder jobs more easily
They can enjoy faster job turnaround times
A feeling of being more 'connected' with your business