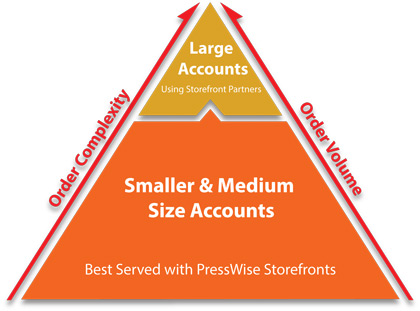 Besides offering a complete web-to-print storefront product as part of your PressWise service, we also make it easy to integrate third-party web storefront products into your PressWise workflow. Our storefront partners include the most recognized names in the industry – Prisme, Pressero, PTI, PageFlex, RedTie, PageDNA, PrintNow, Pixfizz and more!
Whether you choose to run PressWise web storefronts, third-party storefronts,  inject XML orders from your existing web storefront, or a blend of all these methods, depends on your (and your customers') specific requirements:
What are your goals – to acquire new customers, serve your existing customers better, expand your product offering to include specific other services?
Which customers are you trying to serve – are there particular accounts with particular ordering requirements?
Do you provide different services for large accounts vs. smaller, or local vs long distance accounts?
PressWise provides you with unlimited customer web storefronts – whether you need B-to-B or B-to-C storefronts – but is also designed to accept orders from most third-party web-to-print products.
No matter where orders come from though – whether it be a PressWise web storefront, a web-to-print storefront from one of our partners, or an order manually entered by a sales rep or CSR – they all flow seamlessly into the same single, unified workflow.
More Storefronts for More Customers
Most commercial printers have not offered custom storefronts to smaller sized accounts because of a combination of factors:
Relatively high cost of building and deploying custom storefronts
Dependence on storefront providers to create additional sites
Pay-per-storefront or pay-per-order scaled pricing models
Time spent on the creation of each storefront
Fear of lack of user adoption
Customer expectations and buying patterns have changed as more and more products are ordered online. Just look at how many of us order from Amazon. If you aren't ready to meet buyer needs online, someone else will.
PressWise makes it easier to provide storefronts for both small and large accounts by simplifying the setup process. Once customer storefronts are launched, customers will find it a breeze to navigate through product catalogs and customize templates, get estimates, turn them into orders with a click of a button, place reorders, get shipping status updates, check their order history and much more.
In today's hectic world, they'll appreciate the convenience and control that their own custom branded storefront provides. Not only are you making it easier for them to order from you, you can also set up product templates for all of your other products and services, displaying a wider range of value.
Take a look at how easy it is to set up custom web storefronts for your customers, and how easy it is for your customers to place orders through their PressWise accounts.