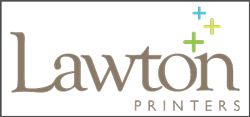 Lawton Printers in downtown Orlando, Florida has a rich history of bringing value to its customers. Founded in 1900, it is one of the oldest, continuous family-run printing businesses in the United States. The current owners, Kimberly Lawton Koon, and her husband Tyler, represent the fifth generation to run the company.
Kimberly's great, great grandfather, J.B. Lawton Sr. founded the business after prior experience printing and publishing a Louisiana newspaper, which he gave up after being shot by a disgruntled politician who took a strong dislike to one of his articles.
After a couple of years running a pineapple farm outside of Orlando which was brought to a halt by a big freeze, J.B. went back to what he knew best – printing.
This knowledge was passed from generation to generation, with each son beginning his training at an early age. J.B. Lawton's son Cestia ran the shop until 1948, followed by J.B. Lawton III until 1981, when Kimberly's father Ces Lawton took over.
When Kimberly heard her father was looking to pursue other interests in 2002, she and Tyler moved back to Orlando to get involved in the company, eventually purchasing the business from her father and maintaining the family lineage.
The Lawton Printers website notes that since the Kimberly and Tyler took ownership in 2005, "the company has continuously seen growth through new technology, new equipment, passion, and youth."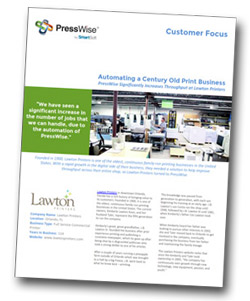 Lawton's commitment to technology investment resulted in the company's adoption of PressWise, the SaaS-based print workflow system from SmartSoft that includes web-to-print, MIS, and workflow automation capabilities.
They had outgrown their old web-to-print system and took the opportunity to reevaluate their entire workflow process.
Their goal was to improve the throughput through their facility with digital orders. Workflow automation was a top priority, especially minimizing the overhead on smaller jobs, as well as the ability to integrate the system with their accounting software.
To read the complete Lawton Printers Case Study, please download this PDF.