While most printing companies are learning to redefine their businesses as marketing service providers, IMS Printing & Signs in Lone Tree, CO took the opposite path. IMS actually has always stood for Integrated Marketing Solutions.
"We evolved from an advertising and marketing company," notes J.J. Heim, President of IMS. Heim explains that the company's initial customers—primarily commercial and residential real estate firms—frequently were not pleased with their print vendors, so he began dabbling in offering production services and "found we were good at it."

Today IMS primarily offers printing and graphic design services to customers in three local states. The firm's heritage enables them to collaborate on the marketing goals of the print jobs at a deeper level than most printers typically offer.
70% of IMS' business is wide-format jobs such as banners, tradeshow displays and retail signs, while digital and small-format pieces make up the remainder of their work. "We're a blended workflow," says Heim. Nearly all (around 98% in fact) of these orders are managed using PressWise, a SaaS-based print workflow system from SmartSoft that includes web-to-print, MIS, and workflow automation capabilities.
"PressWise has revolutionized the way we operate as a print provider. It is the 'brain' of our organization. It helps us track everything from proofing and production to accounting and inventory," explains Heim.
Serving Customers Better with Web-to-Print

Heim recalls when he began looking for a workflow system in 2012: "As we were growing, our old 'by hand' system just wasn't cutting it any more. We needed a way to become more organized, to track, and better serve our customers."
In addition to the MIS tracking capabilities, Heim knew that in order to better serve their customers they would need to offer online storefronts as well. PressWise accomplishes both goals for the company. The job details that the customer selects or enters online flow directly into the backend PressWise production system without any need for further rekeying, significantly streamlining the order entry process.
Using PressWise, IMS has launched several private ordering websites for select customers and three additional storefronts that target specific segments of the IMS customer base:
1. IMS Colorado is a full-service site, meaning that established IMS customers who use it still work closely with IMS CSRs on their orders. Visitors to the site can select from over 150 products, upload their digital files and artwork, select printing options, and pay for their order online. All of the details are tracked in PressWise. Offline, IMS staff often still assists with the graphic design of these orders.
2. IMS Wholesale is a password-protected site dedicated to the company's wholesale business supporting other print and sign shops. A limited catalog of products is offered on the site at a discounted price.
3. QuickPrintingAndSigns.com was launched in spring 2014 and is a fully self-service site open to the general public. Orders are printed as purchased online with no additional modifications by IMS staff. The company offers its most popular and straightforward products on this site.
Adapting PressWise for Wide-Format Jobs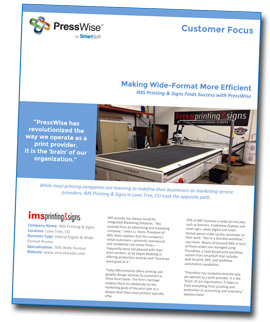 One of the challenges that IMS had when they decided to adopt an MIS system is that 70% of their work is wide-format, which presents challenges to traditional MIS systems. Some of the more unique facets of wide-format jobs include less standardized dimensions, huge file sizes making real-time online PDF proofing through a storefront extremely difficult, and more wasted substrate.
IMS investigated both large and small MIS systems before deciding on PressWise……….
To read the complete IMS Printing & Signs Case Study, read this PDF.