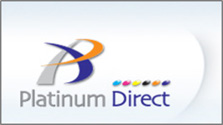 Platinum Direct is an integrated marketing solutions company located in Carrollton, Texas. Since 1994, the company has serviced national companies in the execution of complex marketing programs, and has felt at first hand the winds of change blowing through the print industry and the economy as a whole.
"Like many companies in the printing industry," says CEO Bob Baldridge, "the recent economic disruptions have not been kind to us. As the economy became more troubled, we lost two significant customers," he adds. "One went out of business and the other chose another provider based on price. Revenues have fallen around 50% and we went from 60 employees in 2008 to 19 today."

These changes forced the company to take an in-depth look at its operating processes and product offerings. "Although we still do mail," Baldridge says, "we are not doing much of the high volume mail anymore.  Rather, our work consists of smaller, more frequent executions and a more programmatic business model. We have also migrated much of the black & white personalization to color print on demand."
Platinum Direct has two HP Indigo presses and two high-end Xerox black & white presses.
NEW BUSINESS MODELS REQUIRE NEW BUSINESS PROCESSES
As the business downsized and its focus shifted, Baldridge realized that the high volume mail oriented lettershop solution he had been using was no longer meeting his needs.  He set about finding a workflow solution for the digital world that could efficiently handle smaller, more frequent orders; simplify workflow; and integrate marketing portals and other vehicles that enable online order entry, bypassing the need for sales to touch every order.

Baldridge chose PressWise from Datatech SmartSoft to meet these evolving needs. Today, most of Platinum Direct's work comes in via PressWise over the web.
Baldridge says, "We wanted a way for these smaller programmatic jobs to bypass Account Services, and that is exactly what it does. When an order is received online, it shows up in a dashboard for the press operator, who prints the job and we then either ship or mail it."
In addition to its ability to efficiently handle Platinum Direct's new job mix, Baldridge also liked the fact that PressWise easily integrated with his accounting system, taking more manual steps out of the process.
"In our decision process, we looked closely at another leading solution in the marketplace, delivered as licensed software," Baldridge reports. "It is a much bigger and more comprehensive solution, but also more expensive, and we simply couldn't swallow it, people-wise or financially."
Baldridge also wrestled with concerns about security and the general idea of having his data hosted off-site. He says, "Most
small business owners are control freaks, and I am no exception. But the conclusion I came to is that with all of the safeguards that are in place on the data side, it is probably more secure than my own servers would be.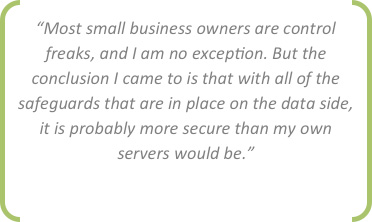 "In terms of paying for something I don't own, that wasn't an issue.  You don't really own licensed software, either. It's kind of a gray area. And who wants to own the hardware?  It is worthless after four or five years, anyway. The cloud model has been well proven, many larger companies are adopting it, and the providers are larger and more stable.
"When you really think about the amount of IT resources out there not being utilized on any given day, it represents a tremendous amount of waste. The U.S. Government estimates that its servers are only being utilized at about 30% on average and even the government is looking at migrating about a quarter of its computing requirements to the cloud."
What does Baldridge have to say about SaaS in general?  "I like the SaaS model.  I have bought and managed a lot of software over the years and understand the expense of it—the IT expense and having to update all the workstations when client/server software gets updated.
I liked the simplicity of the PressWise model.  You just pay a fixed amount every month on a credit card.  And I really love the fact that I don't have to deal with constant software updates. Updates in a SaaS model are automatic and hardly noticeable.
"In addition, the price was very reasonable given its potential. But I also didn't buy blindly.  I talked to a number of my peers in the industry who were using the solution to gain insight into their experiences and get their advice on how it might work for me."
In making his decision, Baldridge also considered how reputable the company was, whether they had enough redundancy, and the ability to migrate to another solution should that become necessary. "PressWise ranked well on all accounts," he says.
Baldridge concludes: "SaaS is the business model that lets you think about your business and not about your IT infrastructure.  Coming from someone who has had to manage a lot of that myself, I think it is a better model, especially for smaller businesses.  It is more cost effective and it is a more simplistic business model. If you own the IT infrastructure, you have to worry about it. Anything can happen.